The AV Awards 2022 is a leading Pro Audio awards organization in Germany, honouring excellence in the AV industry and setting the benchmark for professional standards and best practice.
Blaze Audio entered the pro audio industry in 2021. We've since introduced eight IP connected amplifiers and, more recently, a smart accessory – the Wall-S1 wall controller. As a Danish challenger brand in the pro audio space, in its second year in business, we knew our prospects of winning were slim, especially considering the track records of our fellow finalists.
Here is a challenger brand that distinguishes itself from its rivals with a streamlined vision, a scalable partner support platform, as well as easy to configure amplifiers and wall controllers with multi-zone settings.
This award is widely recognized and helps to confirm our position. We are enthusiastic about the future and we continue to bring outstanding products to the commercial audio sector that adds value for our business partners, system installers and venues.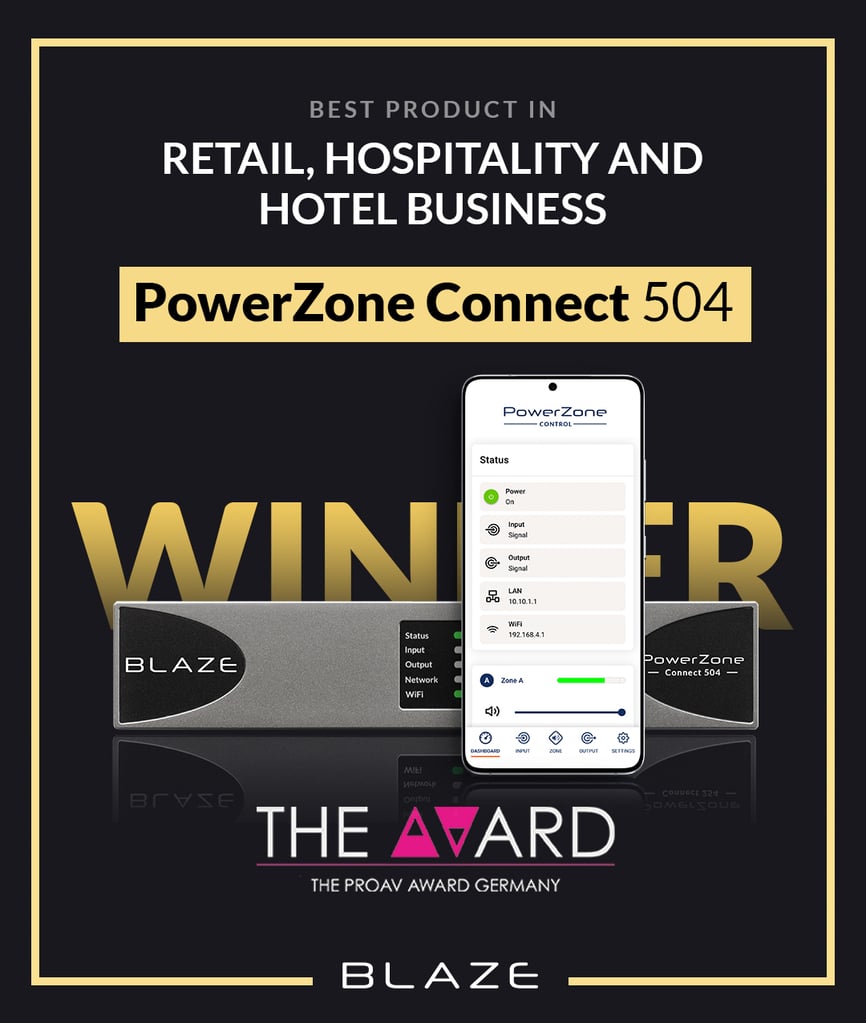 We're excited for everyone associated with Blaze Audio. Our thanks go out to everyone who voted for us, and our network of Partners who proudly promote our products. To learn more about the PowerZone Connect 504 and the PowerZone Connect series visit blaze-audio.com.

More Information:
For more information about Blaze Audio, or the new PowerZone Connect and Control products, please visit www.blaze-audio.com or email us at [email protected]
Press Enquiries:
Press and Media contacts can visit the official Blaze Press & News page or contact our dedicated Team at [email protected]. For US enquiries please email [email protected]
About Blaze Audio:
Blaze Audio specialize in professional solutions for the commercial audio market. Our products power the exceptional sound performance demanded in commercial locations, and deliver the technology, quality and reliability expected by the professional audio market. Blaze Audio is a brand of Pascal A/S.
Follow us on LinkedIn and stay up to date with the news.
Blaze Audio – Pascal A/S, Ellekær 6, 2730 Herlev, Denmark