Most microphones and speakers still rely on analogue principals for capturing and transmitting audio waves. Studio mics dating back to the mid-70's and 80's is by some audio professionals still considered top of their class for their ability to capture crisp sound in a controlled environment.
Amplifiers are different. Amps are electronic circuitry; a collection of various components arranged and tuned to produce energy amplification. The next generation of power amplifiers is seeing hardware and software coming together to further boost performance. The commercial audio market has recently seen an influx of initiatives from manufacturers to deliver connected devices for today's Pro Audio industry professionals.
Increased interest for smarter audio systems is encouraging new players to enter the audio space.
Danish Pro Audio solutions provider Blaze Audio has recently unveiled its series of TCP/IP connected amps. A Blaze PowerZone Connect amp is made of up to 600 components that are fine-tuned to provide affordable, versatile and reliable high-performance audio power – offering system installers a impressive customization options and class leading energy efficiency. The PowerZone Connect series are Full Matrix DSP amplifiers. For the system integrator this translates into less hardware needed to drive the system.
The built-in software and its features are conveniently accessed wirelessly by connecting to the amp; just like you do at home when connecting to your router or modem – via TCP/IP. The Connect amps are conveniently set-up in minutes using a phone, tablet or laptop. The interphase —the PowerZone Control web app — provides the installer with smarts dashboards and a palette of configuration options. The benefits for the system integrator are plentiful and the built-in software can be upgraded for free as new firmware updates are rolled out regularly.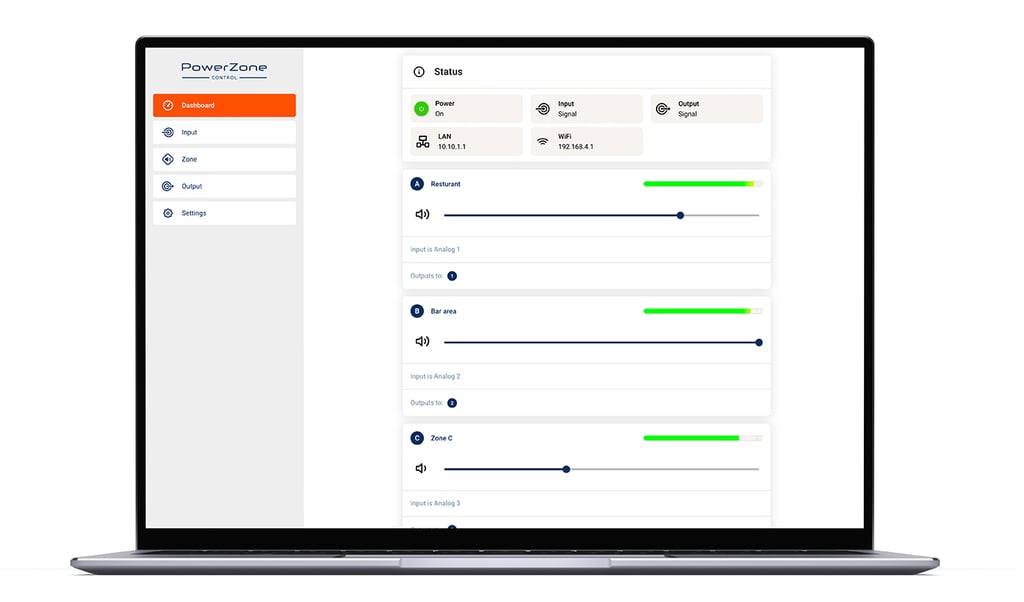 Blaze Audio creates compact amplifiers that pack a big punch by combining proprietary technology and advanced algorithms. The half width, 1U format amplifiers ship with accessories such as rack ears and a half-rack extension plate that allows it to fit into any conventional rack.

Cloud/SaaS basically made enterprise software a consumer product where workers could easily jump on/log-in to a user-friendly platform and this approach allowed them to swiftly expand their user base. Similar shifts are beginning to take place in the Pro Audio B2B market as hardware and software become more and more intertwined. One of the companies spearheading the change is Danish-made Blaze Audio. Learn more about their new connected amplifiers on blaze-audio.com.